Hardworking, patient and organized, these are the main characteristics that would pop into one's head when asked to describe these tiny creatures that we almost see every day.  Well, you guess that right these are the ants. We often see them marching on a straight line, walking gracefully as they bring some crumbs of left-over food from the table or from the floor.  Despite the minute size of ants, we are stunned by their strength, eagerness and determination.  If the ant is your animal, it may signify industry, diligence, orderliness, cooperation and hard work.  You may know someone who works hard just like an ant or just sees the ant as a symbol of themselves or an inspiration.  So, if you do then you ought to check out our prepared list of twelve ant gifts below for your reference.
Figurine Ant Gifts for Kids
The ant may be small in size but because of its remarkable abilities and characteristics, we have learned to admire and make it as our inspiration.
This ant décor which is made of iron is a comic and entertaining décor that can remind you to be like the ant.
This would be a fascinating décor for your desk which is great for kids and even the young at heart.  This ant décor stands 15 by 6.5 cm.  This ant décor shows an ant standing proudly on top of a rock.
This would be a great conversation starter and a good vibes magnet for your room.
Ant Book Gifts for the Children
Story time is one of the favorite activities of kids.  You can read to them during free time or even before bed time.  Kids do love to hear fairy tales and hear happily ever after but it would be great to read to them some stories that they can learn something from such as this book entitled: "The Little Red Ant and the Great Big Crumb."  This book is originally a Mexican fable but then has been translated into several languages and English is one of them.  The story of this book inspires little kids that even a small ant such as the main character of this story can overcome one's faults and weakness if you believe in yourself.  This storybook is such a page turner and the kids would surely love it!
Toy Ant Gifts for Kids
Plush toys are great gift ideas for kids because they are huggable, cuddly and great snuggle buddies during bed time.  If the kid on your list is a great fan of the ant then this handmade crochet ant plush toy would be a great gift idea.  This ant plush toy is made from milk cotton yarn which makes is soft to touch and cuddle.  Since it is handmade, you are assured that every detail on this plush toy is made intricately with love and is aimed to please the receiver.  This crochet ant plush toy is a unique gift idea that you can't see anywhere in the market but on this site.   You can also customize this ant plush toy by changing the color as you want and can also add a name to make it personalized.
If you want a plush toy that can also serve other purpose than being a cute cuddle buddy then this ant stuffed plush doll that is also a sofa chair can be the best gift idea for you!
This ant plush sofa chair is made of cotton which makes it soft to touch but rest assured that it is strong enough to hold a child up to age 7.  This ant plush sofa chair comes in different colors and ant expression to choose from.
Cute Ant Puppet Gifts!
Role plays or story time can be more entertaining especially when you have ant characters because you can use this ant marionette to re-enact every scene in the story where it is the main character.
This ant marionette is made of wood, heavy weight fishing line, googly eyes and safe acrylic paint.  The ant marionette comes in red and black color.
Aunts do sometimes take the lime light when it comes to showering the child with love and presents of course!
This funny ant baby tee says it all, it elaborately says "my aunt (with the use of an ant) loves me".
This cute t-shirt is a fun way of showing how much an aunt loves her niece or nephew.  This shirt is made of one hundred percent cotton which makes it comfortable to wear.
Geeky Ant Present!
Ants are fascinating to watch.  You can never get tired of seeing their synchronized walk and organized routes.  You can get to see them and indulge as you please through this live ant farm.  Even kids do find this amusing to watch and so as the young at heart.  Check out this live ant farm and be amazed with the beauty of the ants' lives as you see them every day.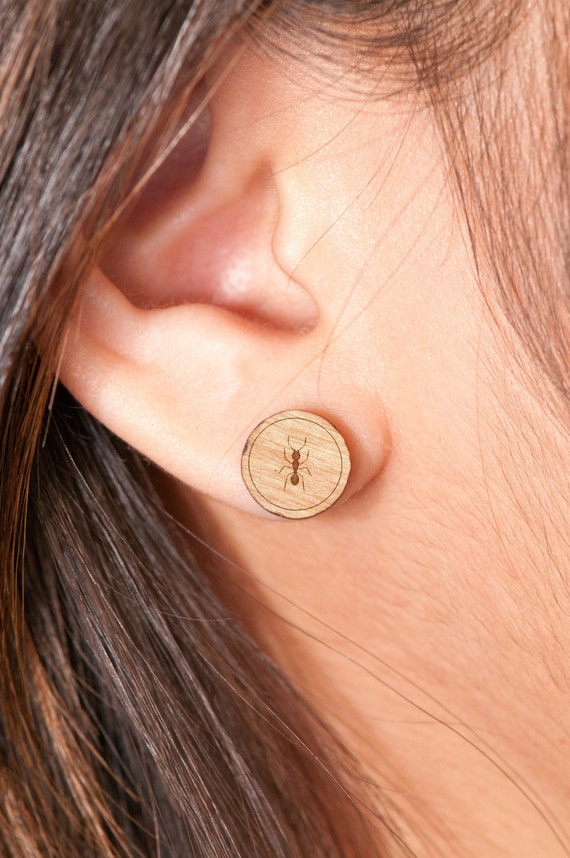 Ant Stud Earring
Ant Jewelry!
Earrings beautify the ears of the wearer in so many ways but if you are tired seeing the usual designs of the earrings then this ant stud earrings would be a great gift idea.
This pair of ant stud earrings is made of premium cherry wood that measures 1 cm.  It comes with a beautiful packaging when bought which makes it gift giving ready anytime!
Courage is something that is not gained easily but a friend or a great inspiration can uplift one's spirit and add some needed courage to the one who badly needs it.  This unique necklace with a pendant that shows an ant lifting a log is an encouraging jewelry that represents strength by believing in oneself.   The pendant is made of crystal clear glass tile which makes it look classy and eye catchy while the chain runs for up to 24 inches long.  This necklace can be worn at any occasion it may entail and it can be an instant fashion statement when worn.
Coffee lovers would love to have this hand painted ant cup and saucer.
You can see the interesting design of the ants walking in their usual organized manner as it is crafted beautifully on this porcelain white cup.
This cup and saucer is painted by hand and you can see the charming details and fall in love with it instantly!
The fierce and strong people do prefer a gift that matches their personality.  This diamond shaped polymer clay ant magnet is a fierce looking and edgy gift that matches a recipient with a strong personality.  This ant magnet is a three dimensional depiction of an old crawler ant.  This polymer clay is glazed with acrylic paint which gives it a rustic and aged copper look.  The magnet at the back is strong and sturdy enough to hold this polymer clay since it is an inch thick.  This would be a perfect gift for the ant loving fierce friend on your list!