The Wicca religion is filled with mystifying facets. It contains aspects of paganism, occultism, magico-religion, and nature religion. For the lay people, Wicca can be easily associated with witchcraft. But more than the ominous connotation that most people give them, Wiccans are a set of people who believe in the captivating powers of nature and the supernatural.
Here are some nice gifts for Wiccans that they will surely appreciate!
---
Wicca for Beginners Book
Check It Out
If you know someone who has a newfound interest in the Wicca religion, give them a helping hand by buying this book for them. It's great for someone who wants to know more about the religion so that he/she will be knowledgeable enough when he finally decides to join. This book gives you all the details especially the history of the Wiccan religion. There are also chapters for the holidays celebrated, principles of magic and even magic spells for beginners.
---
Dream Spell Candle
Check It Out
Most of us are baffled when we get strange dreams. We want to know what they mean and it's really rare that we do find out what they are. If you want to delve deeper into your dream, look into the causes for it and it's probable future, this dream spell candle can help you. It's made with fragrant flowers and herbs like chamomile, roses, and sandalwood that helps you get a restful sleep at night.
---
Herbal Sampler
Check It Out
This one goes great with the first item on this list. This set of herbal sampler is perfect for newbie Wiccans who are still learning the basic spells. You can save money by going for smaller portions of herbs at first than to fully stock up on them until they all wilt. All of the herbs should be fresh just like the ones in this set.
---
Crystal Gazing Ball
Check It Out
Just the picture of a crystal ball amazes us. Even though we don't believe much that it can foretell our future, you can't help but agree when someone offers to look into our coming years. But Wiccan believes greatly in the unknown and using a crystal ball is a big highlight of the religion. The triple Moon Goddess base for the ball is made of resin and adorned with faux sapphire gems and intricate carvings, and the ball is made of glass.
---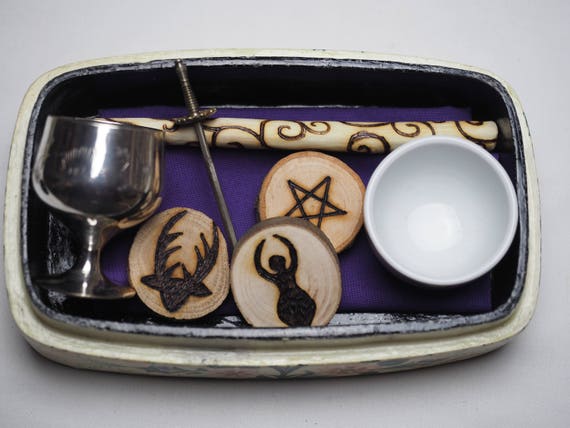 Travel Altar Set
Check It Out
Every Wiccan spends a lot of time building up their altar with various mementos. But what if they need to travel? Of course, they can't bring in everything that is on their altar! As an alternative, they can take along this portable altar set. It's complete with the essentials but in miniature form. Also great for starting Wiccans who want to begin with small investments for their altar.
---
Palmistry Hand
Check It Out
Palm reading is very popular in the Wiccan religion. It takes some time to learn the art and you would need some self-help books from time to time. This wooden structure of a hand with diagrams for palm reading will help you a ton. It can be a little hard to remember all the details and you would need something to guide you as you learn. Eventually, you'll be a certified palm reader in no time.
---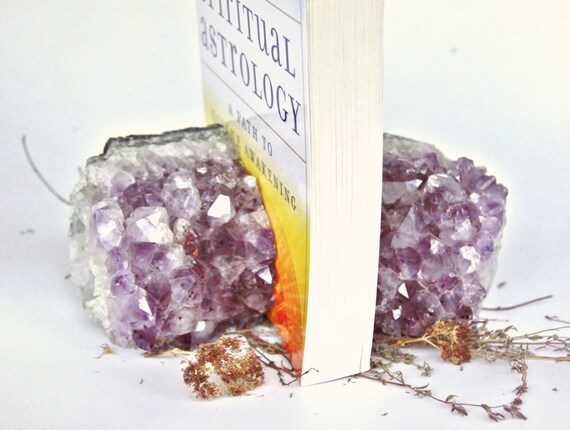 Amethyst Bookends
Check It Out
Straying from actual Wiccan stuff, spice up your shelves of Wiccan books with this amethyst cluster bookends. Crystal is a big thing in the religion and you can't miss having this eye-catching decor. And note that these are made from real quartz geode and not just some plastic knockoff. What's the harm of using dazzling bookends right?
---
Do You Have More Ideas for Gifts for Wiccans?
If you have more suggestions for gifts for Wiccans, you can chime in the comments below!