Kingsman is one of the highly praised movies by many critics and fans as well. It has started as a comic book which had a title named The Secret Service. It is loved by many because of the thrilling action sequences, acting performances, actors and its overall humor. The movie's male lead is Taron Egerton who plays the role of Eggsy.
This movie is about the secret agent training of Eggsy as he was welcomed into a secret spy organization. The second installment of this action-packed movie will be joined by Channing Tatum, which makes a lot more fan excited to see the second installment of the movie.
Just in case you are having a hard time to decide on a gift for someone dear to you, and you know that he/she loves Kingsman, why not give them one of the items in our list? Read on to know the hottest Kingsman gifts today.
---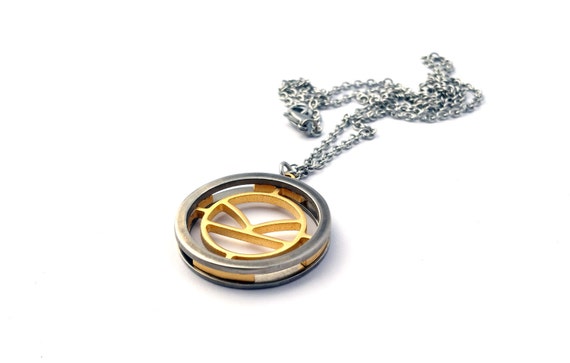 Eggsy's Necklace Replica
Check It Out
This is the exact replica of the lead character's necklace in the movie. The chain is made from high quality stainless steel and gold filled chan, while the pendant is made from gold plated brass metal for the inner part and stainless steel for the outer rings. This accessory is one of the most ideal gift items for someone who truly loves the movie and the actors who played the characters. Aside from this item's purpose, this can be the perfect representation of the movie that they adored the most. It is also perfect for every outfit, so they will not be taking this off wherever they might be. This is one of the geekiest Kingsman gifts ever!
---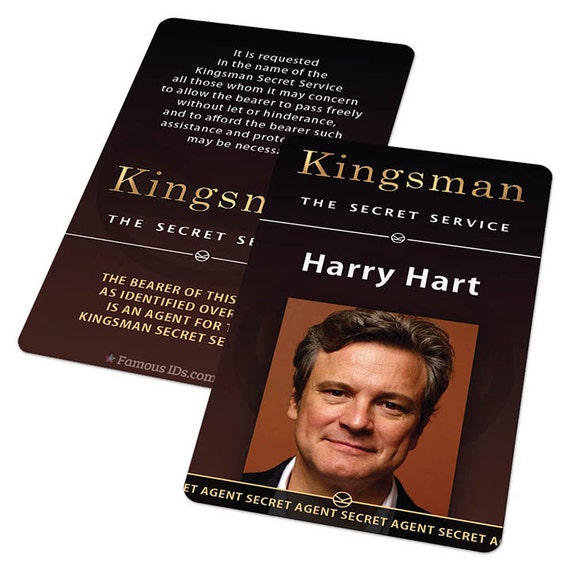 Kingsman ID Badge
Check It Out
It is a customized ID card made from various materials such as premium grade PVC card, waterproof and scratch resistant finish with another protective packaging. The customer has the option to have their pictures and details encoded in the ID, or if they prefer a specific movie character instead. This ID card will be a perfect gift because through the use of this card, they will be able to be identified as one of the secret spies of the organization in Kingsman movie. It is also a great addition to a fan's collection for the reason that this item is a rare find.
---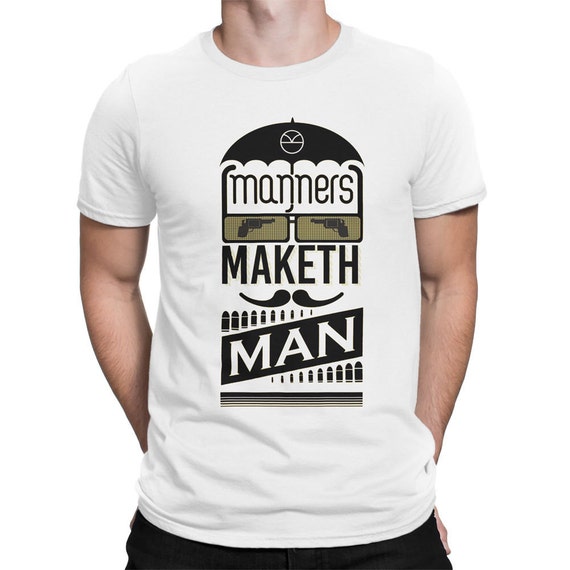 "Manners Maketh Man" Shirt
Check It Out
This is a unique statement shirt made from guaranteed high quality cotton. It also gives a nice fit to whoever wears the shirt. Not to mention that it also has a ribbed round neckline, short sleeves and neat top-stitched edges. If you are looking for an item which is perfect for their day-to-day lives, this shirt is a good option to settle for. The quote printed in front of the shirt is a quote from the Kingsman movie which makes it more special.
---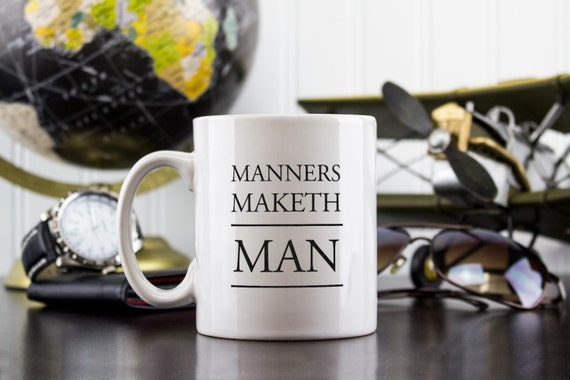 "Manners Maketh Man" Mug
Check It Out
It is a mug made from a hundred percent ceramic material, which is microwave and dishwasher safe. This mug has a print of the line, "Manners Maketh Man." Once you decide to get this for someone who is a huge fan of this movie, they will be able to enjoy drinking coffee and will be excited to use it every single time.
---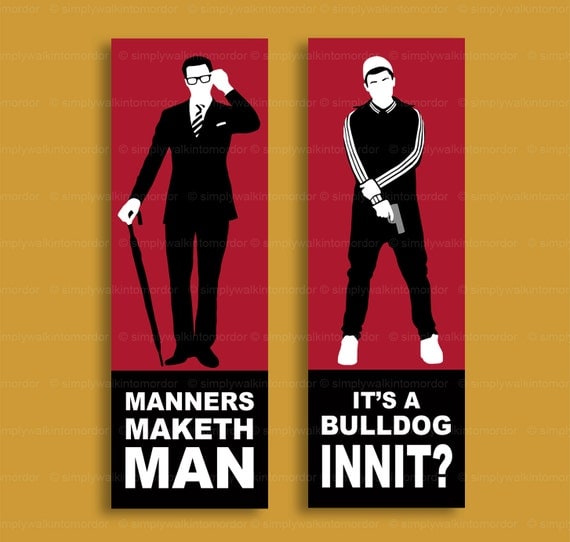 Harry and Eggsy Bookmarks
Check It Out
This is a plastic coated bookmark printed on premium 200gsm Fujifilm Crystal archive photo stock in a commercial printer. Also, it is laminated at 250 microns for the enhancement and prolongs the quality of the bookmark. If you are related to a Kingsman fan who also loves to read, this bookmark is the best one to get for them. If they are lucky enough to have the comic book version of this movie, they can use this bookmark exclusively for the comic book only.
---
Kingsman: Secret Service Blue-Ray DVD
Check It Out
It is the BluRay copy of the first installment of the movie Kingsman. Since the next installment of this show is almost ready to be shown on theaters, you can opt for this DVD of the first movie to let them refresh their memory about the movie or just simply use this for their movie marathons.
---
Kingsman Sountrack
Check It Out
This is a CD album containing all the soundtracks used in the movie proper. By getting a copy of this for your gift recipient, they will be able to relive the feelings that the movie had given them when it was first shown. They will also be able to have a source of the movie's songs without the need to rely on the internet just to listen to it for a little while.
---
Umbrella
Check It Out
It is a great quality umbrella made from a hundred percent nylon canopy with a classic wood crook grip for a more secure handle upon using the item. If you want a useful gift item which represents the movie as well, this umbrella is your best option available. This is the famous signature umbrella as seen in the Kingsman movie. Not only that you can use this as a movie representation, this can also be used during the stormy days.
---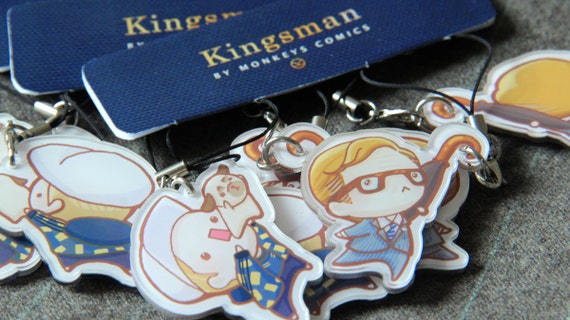 Kingsman Characters Chibi Charm
Check It Out
This is a charm set of the Kingsman movie characters in chibi version, made from acrylic plast. These charms are a great gift because they will be able to use this as a decoration for their bags, purses and even as a new addition to their ever-growing collection. Probably the cutest Kingsman gifts in this list.
---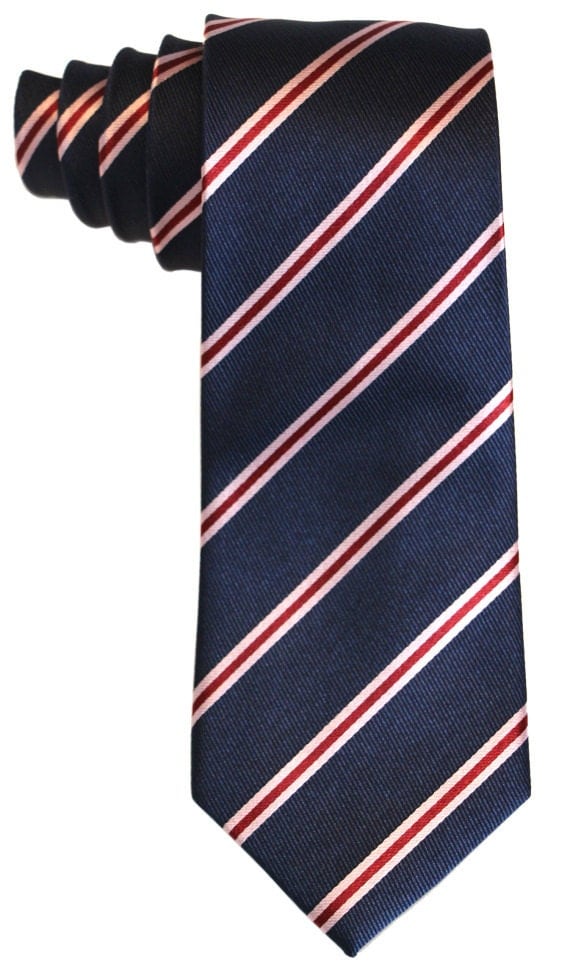 Neck Tie (Similar to What Eggsy Used)
Check It Out
It is a tie made from high quality silk fabric. As for the design of the tie, it has a pale pink stripes over a navy blue cavalry twill. This may look like an ordinary tie for others, but only fanatics know what this tie is all about. This is the iconic tie used by the spies in Kingsman movie, and therefore, your gift recipient will be truly glad to have one of these Kingsman gifts. They might want to use it whenever there is an occasion, but they can also use this as a display to prolong the quality of the fabric material.
---
What Kingsman Present is for You?
Here is where our list ends. If you were to decide right away, which one would you buy? Don't forget to let us know your thoughts!