The rabbit is one of the gentlest animals that walked the earth. They are naturally fluffy and their long ears add to their wholesome appeal. The fact that they are generally harmless because they are herbivores makes them ideal pets even for kids. Their innocuous demeanor made the rabbit one of the most popular animals in television, movies, and books. Bugs Bunny, Peter Rabbit, Roger Rabbit, and the White Rabbit of Alice in Wonderland are just a few of the characters that gave life to these modest creatures. Kids and adults find them so adorable that items with bunny prints and shapes are always a favorite when it comes to gifts. Since there is an abundance of rabbit gift gift ideas available, I came up with the most unique and special gifts to help you choose.

Rabbit Themed Home Accessories and Decors

1. Rabbit Door Stop – This Rabbit Door Stop Wedge by Comfify is truly a rare item. Made of vintage cast iron, this classic rabbit combines elegance with usefulness. It has an angled wedge for flexibility and a solid weight to keep your open. Unlike other doorstops, this one has a protective bottom to protect your doors from scratches.
2. LED Rabbit Night Lamp – a great gift for all occasions. This cute rabbit night lamp automatically turns into 7 different colors every few seconds. It's safe to use and gives off a romantic and soothing light perfect for bedrooms.
3. Trinket Box – this bejeweled cottontail opens into a beautiful jewelry box. It has a hinged top and magnetic closure and is crafted from antiqued brass decorated with sparkling crystals. This gorgeous rabbit has an expensive appearance making it a perfect living room centerpiece if you prefer not to use it as a trinket box.
Rabbit Door Stop
Rabbit Night Light
Rabbit Trinket Box
4. Porcelain Gift Bag – a dainty porcelain gift bag featuring Peter Rabbit and family. This gift bag is definitely not for shopping but a unique home décor you can use to hold candies, trinkets, flowers, etc. Made of fine white porcelain trimmed in 22k gold, this will make great gift for rabbit collectors.
5. Rabbit Rain Gauge – your garden won't be complete without cute animals hanging out in it. This rabbit rain gauge will add life to your flower garden and will surely bring out a smile even during rainy days. This garden bunny is made of metal and resin so it can withstand heavy rainfall.
6. Teapot – This White Bunny Teapot will be a great gift for moms, and newlyweds. Tea time will never be the same again if served with this ceramic teapot exquisitely crafted and designed with pink ribbon and flowers.
Rabbit Porcelain Bag
Rabbit Rain Gauge
Rabbit Tea Pot
Rabbit Themed Office Accessories
7. Charging Station – This bunny is whistling nonchalantly because this 7-port USB charging station will make your life less complicated. No more worries with desk clutters, extra cables, and plugs! The ChargeHub™ charges up to 7 devices at once with built-in safety features to ensure the protection of all the connected devices.
8. Wireless Mouse – put some fun into your boring desk. This wireless mouse features an outline of a rabbit to cheer you up on a stressful day but it has a leather look to give it a no-nonsense appearance. It suits people who are businesslike but also love rabbits. This special mouse has an auto-sleep function to save battery life and is compatible with both PC and Mac computers.
9. Bunny Tape Dispenser – get this rabbit as your new assistant. It is more than willing to dispense your adhesive tapes so you can seal and secure everything conveniently. This cute and functional rabbit is available in black and white.
Bunny USB Charging Station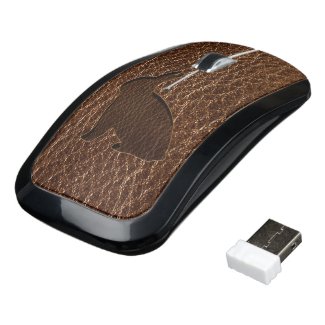 Rabbit Wireless Mouse
Rabbit Tape Dispenser
10. Desk organizer – a cute little rabbit gift that can brighten your office desk or study table. This desk bunny will help keep your desk clutter-free and cheerful. This charming bunny is holding a magnetic carrot to hold a bunch of paper clips and has a slit on its head for your scissors. The scissor hands will make its rabbit ears.
11. Rabbit Journal – This vintage-looking journal is a work of art and will be appreciated by anyone, rabbit-lover or not. The front cover is adorned with a rabbit pendant and secured by a c-hook lock. This belted leather-bound journal can be used as a diary or a notebook for your thoughts, sketches, or writings. The pages are made of high quality Persian paper for that blot-free writing. Expect that the receiver of this gift will have nothing to say except "Oh, wow!"
Bunny and Rabbit Gift Ideas for Him
12. Men's Laptop Bag – you can now carry your laptop anywhere without worries of unwanted scratches and damages with this convenient shoulder bag. This bag has an additional compartment for your tablet and side pockets for your phone. You can have everything you need in a bag and it's waterproof so you'll be sure all your important stuff will be protected.
13. Pocket Watch – give something different to a special man in your life, husband, father, or grandfather. This pendant style pocket watch will give any man a certain amount of sophistication and elegance. This vintage looking watch will go along well with both casual and formal wear.
14. Bugs Bunny Shirt – add fun and style to your swag, Dudes! You can't talk about rabbits without including Bugs Bunny, the smart-aleck bunny of Looney Tunes fame. This trendy men's shirt features Bugs with Taz looking like typical gangsta of the 90's. Perfect gift for hip hop guys. Available in adult men's size.
15. Tie Bars – girls can't help noticing a dashing man who looks impeccable on formal wear. Secure your necktie with this rabbit tie bars and be the focus of women's attention in any gathering.
16. Meditating Rabbit Buddha – let this meditating rabbit give you good fortune! It doesn't matter if the recipient is a believer or not, this Rabbit Buddha exudes positive vibes you can't help but smile just by looking at it. Besides, it is said that rabbits symbolize fertility and fruitfulness, so a gift like this one will be deeply appreciated.
Bunny and Rabbit Gift Ideas for Her

17. Bunny Ring Holder – keep your rings in a convenient place for easy access. This chrome-plated rabbit holds your rings for safe-keeping whenever you don't feel like wearing them. It is made of cast metal and has a shiny finish for that fancy look. You can place it by the sink, on your bureau, or on your bedside table.
18. Winter Scarf – be warm and comfy while wearing this lovely winter scarf. The white bunny print is set on a black background giving this T-shirt scarf a classy look. A trendy accessory that goes well with any outfit so you can wear it on almost any occasion. Made of 100% cotton so it's perfect for both winter and summer wears!
19. Rabbit Earrings – wear these stud earrings and it looks like pair of rabbits has run directly through your earlobes. Simple but attractive, these earrings will complement the wearer's fun personality. They are made of alloy so they are tarnish-free.
20. Throw Pillow Cover – this hard-nosed rabbit wearing oversized eyeglasses is so charming you just want to hug him forever! Cover your throw pillows with these adorable animal prints to make relaxing and sleeping on your couch more inviting.
21. Crossbody Bag – a small crossbody bag for women who are always on-the-go. This Korea style silver bag can hold your cell phone, coin purse, and ID's. Just what you need when you are off to see a friend, watch movies, or go to the park. It's easy to grab when you are in a hurry and fashionable, too!
---