Your parents are celebrating their 40th year? That is a very long time! Send them our congratulations!
It is time to celebrate their four decades together! How about a gift? Wedding anniversary gifts are usually themed and the theme for the 40th year is ruby. A couple celebrating their 40th year is like a ruby: a very beautiful thing that was built over a long time.
If you are not sure on what kind of ruby gifts to give your parents, you can check out this list of presents I made. Introducing my top choices for ruby wedding anniversary gifts for parents!
Ruby Jewelry for Mom
Jewelry as wedding anniversary gifts for her is very easy, since most jewelry is catered to women.
1. Ruby earrings. Choose the dangling ones because they look just stunning. She can wear this on their anniversary date night. She can also use these whenever she goes on a sales meeting at the office!
2. Ruby necklace. I just love the look of this shiny red ruby heart necklace. It looks very stunning and classy, just like your mom!
3. Ruby charm bracelet. This jewelry present for mom but this time, she can use it even on casual wear.
Ruby Red Baroque Earrings
Ruby Heart and Diamond-Accent Pendant Necklace
Multi-Ruby Bracelet
4. Ruby ring. If your parent are the kind of couple that only wear their wedding rings on special occasions (to keep them looking great) then you can get them a ring each. They can wear these are substitute to wearing their wedding bands on normal days.
5. Ruby watch. This is something she can wear everyday! You gotta love a goo looking watch.
Ruby Fashion Ring for Women
Ruby Quartz Watch for Women
Ruby Jewelry for Dad
6. Ruby ring. Just like mom's ring above, you can give this to dad is they do not like wearing their wedding bands on normal days to keep the rings looking good. This lion ring with ruby eyes is very manly looking!
7. Ruby watch. A man loves a great watch. This is especially great if dad loves collecting watches. An addition to his collection, hmm?
8. Ruby cuff links. Cuff links are a power jewelry that announces the status and classiness of a guy. He can wear this at the office for that stunningly complete gentleman suit.
Lion Gold Ring with Ruby Eyes
Ruby Quartz Watch for Men
Ruby Cuff Links
Ruby Trinkets, Decors and Personal Effects
9. A ruby-colored vase. While this is not a real ruby itself, you can give mom and dad a ruby tinted glass vase to add a bit of color into the house!
10. A statue with a ruby accent is also a great idea. Also adds a bit of touch into their living room. This ruby dragon statue just looks very expensive (although it is not.)
11. An anniversary plate adorned with rubies is also a cute decorative present for your parents!
Ruby Vase
Dragon Statue with Ruby Accent
Ruby Anniversary Plate
12. How about a cute crystal teddy with a ruby heart? Mom will like this.
13. How about a ruby handbag for mom?
14. Mom will also love these ruby red colored shoes, just like Dorothy does. Perfect for date nights with dad.
Ruby Anniversary Bear
Ruby Fashion Handbag
Ruby Red Shoes
15. You can get dad a ruby red dress shirt. This will add a bit of color to his boring wardrobe!
16. This ruby adorned clock makes the perfect home decor you can give your parents!
17. This unique looking Faberge style egg with a ruby-looking design will look nice in their bedroom!
Ruby Red Dress Shirt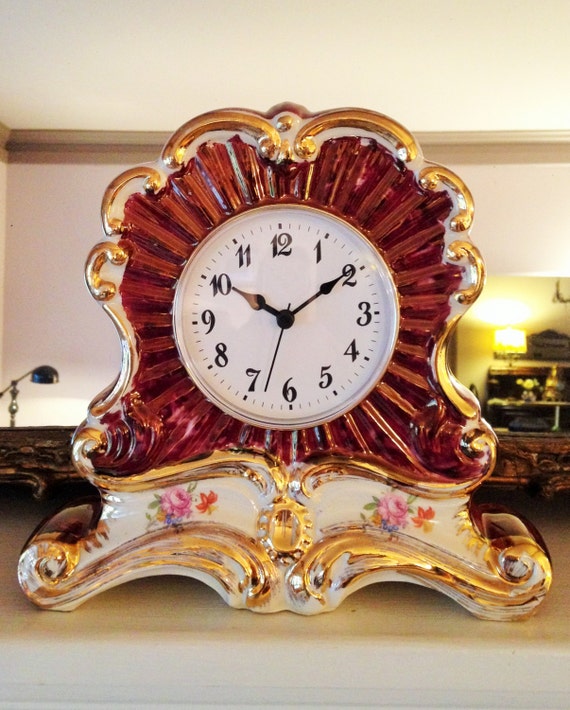 Ruby Red Clock
Ruby Faberge Style Egg
Other Ruby Wedding Anniversary Gifts for Parents
Here are some more ruby themed gift ideas that do not fit above
18. A red sparkling wine looks just like the precious stone. A drinkable ruby, if you look at it. Perfect for their anniversary date night!
19. Add in a pair of ruby red toasting flutes to make it even more special!
Sparkling Red Wine
Ruby Toasting Flutes