Wow! Your parents are celebrating their silver wedding anniversary soon? They are halfway to their golden anniversary! Tell them that I send my greetings!
What now? Hmm? Why not buy them a present? Not just any present, but a themed present. Wedding anniversaries usually has a theme and the theme for the 25th year is.. you got it, silver.
No idea what to get them? Do not worry! Here is a list of silver wedding anniversary gifts for parents.
Silver Jewelry Are The Most Obvious Ones!
Silver Anniversary Gifts For Couples That Your Parents Will Love!
This could be the most common, but the choices on what silver gifts to give your parents is limitless! Here are some great silver presents I saw:
1. This pair of super nice cufflinks will make a nice present to dad! Especially true of he works at an office. Cufflinks are a power jewelry!
2. You can get mom this gorgeous piece of silver necklace. She can wear this on formal event or even on their wedding anniversary dinner!
3. How about a pair of silver couple's rings? This present is applicable if mom and dad are those kind of couples who do not wear their wedding bands on a normal day.
Kenneth Cole Silver Cufflinks
Sterling Silver Heart Necklace
Silver Couple Rings
4. How about a pair of silver couple's watches? Silver watches can be worn on formal and casual days. they are very versatile and you are sure your mom and dad will wear these!
5. A silver charm bracelet for mom! Something to wear whenever she is having some tea or coffee with the ladies!
6. Dad will love it if you can get him a nice silver pocket watch. This is a piece of jewelry that will make any man look like a gent! bowler hat and monocle not included.
Silver Couple's Watch
Sterling Silver Heart Charmbracelet
Silver Pocket Watch
Silver Decors for Your Mom and Dad's House
Silver Wedding Anniversary for Parents' House!
Here are my best picks for decorative silver presents you can get your parents!
7. How about this cute silver clock? This will look nice on the dining or kitchen area!
8. This towel hanger is mountable on bathroom doors and will give their bathroom a nice elegant feel.
9. To match the item above, you can also get them a silver bathroom mirror to complete the elegant bathroom look.
Silver Wall Towel Warmer
Silvered Bathroom Mirror
Silver Cutlery Wall Clock
10-11. How about these two beautiful silver wall mural?
12. This octopus jewelry hanger will look good on their bedroom wall. A nice place to hang mom and dad's jewelry!
3d Silver Art Mirror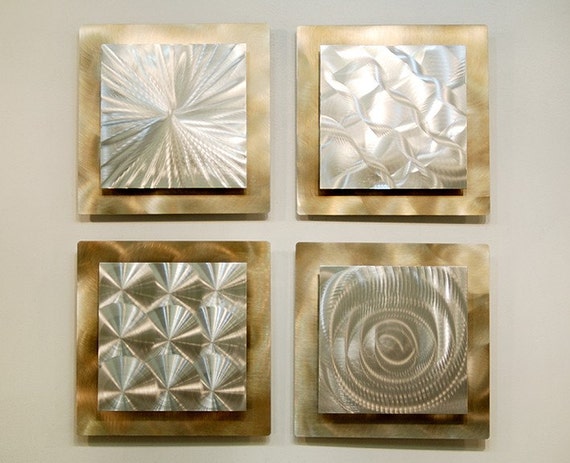 Silver & Gold Modern Metal Wall Sculpture
Other Silver Gifts for Your Parent's 25th Wedding Anniversary
More Noteworthy Silver Gifts For 25th Wedding Anniversary
Here are some more notable silver wedding anniversary gifts for parents:
13. Special cutlery. Make sure you get really good expensive ones. After all, it is your parent's anniversary!
14. A 25th Anniversary Silver Plate. Look for the real silver plates with custom engraving. Classic gift, but still beautiful nonetheless.
Silver Luxury Cutlery
Engraved 25th Wedding Anniversary Silver Plate
15. Silver photo frame. Put your parents' wedding photo, where they were still young and wrinkle free! Tease them about it!
16. Silver cheese knife, fork and wooden plate. Especially cool if they are cheese enthusiasts.
17. The silver plated keepsake gift shown below:
Two Tone Silver Plated Wedding Anniversary Photo Frame
Cheese Board Set
25th Anniversary Silver Plated Keepsake Gift
---