Vampires are known to be creatures of the dark. Some people believe they did exist while others think vampires are a myth. Wicked and vicious, they prey on innocent victims and suck their blood to death. In the past few years, vampires were romanticized that nowadays, they don't seem to be the same creatures people feared and hated.
TV series like Vampire Diaries, Angel, and Buffy showcased vampires as misunderstood creatures and they can also help in the greater good of mankind. Stephenie Meyer's Twilight Saga completely turned the vampire image around and everyone suddenly wanted to be immortals like Edward and Bella.
For this reason, vampire gifts have become popular. In coming up with this list, I tried to stay away from the "sweet" vampire image and chose the classic Dracula-inspired vampire gifts. Some can be really gross but there are some cute ones, too!
On the image: Little Vampire Pacifier (#9 on this list)
---
Coffin Handbag
Check It Out
Beware of the vampire that carries this coffin handbag. It has a big enough space to contain blood vials and her other evil accessories. But it's hard not to notice this black vinyl purse with detachable chain strap and faux bone handle. Dark and elegant, you may want to have something like this for yourself. Vampire fashionistas will certainly love wearing to match their Goth outfits.


Other Cool Dark, Gothic Bags as Vampire Gifts
Is a coffin too morbid for you? Here are some more dark, Gothic bags that look as cool but are not coffins!
---
Bitten Choker
Check It Out
Wear that bitten look around your neck to keep hungry vampires at bay. This soft velvet band choker with Swarovski crystals on the side to appear like bite marks is so captivating you can't take your eyes off her neck once she wears it. There are more red crystals to represent cascading blood drops for more bewitching effect.
---
Vampire Inspired Lipstick
Check It Out
Turn those kissable lips into dark and deadly red. One will hardly notice the fangs or the bloodied lips when a vampire is wearing this Kiss of Death Red Lethal Lipstick. Vampire lovers would want to wear this lipstick for this contains antioxidants to keep the lips soft and luscious plus it has a unique long lasting formula so they can wear it for long hours without retouching.
---
Vampire Knee High Socks
Check It Out
Sock It to Me is a brand known for its funny socks, and now they have this vampire-inspired knee high socks. Pictures of fangs on a black background give the socks a funky appearance. Great to wear on Halloween parties, camping, and other outdoor activities. It will go well with other outrageous outfits and the wearer must be prepared to handle all the attention she will get. Teenagers and young adults will love this!
Here Are More Dracula Socks You Can Give as a Vampire Gift!
Super cool portraits of Dracula printed on socks!
---
Vampire Parking Sign
Check It Out
This sign will be a great accessory to any room. Decorate your room not with cute wholesome decals but with this menacing tin sign instead and expect violent reactions. The words, "Vampire Parking Only Violators will Be Bitten!" are enough to warn off unwelcomed intruders. Bloodstains are added on this funny wall décor for a more graphic effect.
---
Bloody Drinking Flask
Check It Out
A vampire's flask! If you are going to a Halloween or any costume party as a vampire, this flask will complement your blood-thirsty appearance. Small enough to fit into your pocket, you can fill it with your Vampire Blood Drink or Vampire Blood Martini so you can take some blood shots whenever you feel like it. This black flask looks ominous nobody would even think of sharing a drink from you.
---
Vampire Lovers Salt and Pepper Shakers
Check It Out
You don't have to be a vampire enthusiast to love this beautiful kitchen accessory. The Vampire Love at First Bite Set of Kissing Salt and Pepper shakers features Count Dracula about to bite his willing partner. It is devilishly cute! Made of glazed ceramics the pieces have magnets to hold them together. I never thought I will find Count Dracula so adorable until now!
---
Vampire Fangs Bottle Opener
Check It Out
Since you can't open a bottle with your teeth, here's a cool alternative. This Bite Me Bottle Opener is a sharp–looking opener with sharp and stainless steel vampire fangs to help you quench your thirst when you are on the go. It has a detachable key ring so you can have it with you on any celebrations or simply hanging out with friends. This cool vampire gift is both fun and functional and perfect for those who love their drinks.
---
Little Vampire Pacifier
Check It Out
What a batty way to calm your babies! The Little Vampire Pacifier sure has some attitude! Inject some weird sense of humor to your baby's face with this pacifier. Laugh at the contrast between your baby's angelic face and the nasty fangs hanging from his/her mouth. Made of silicone nipple to keep baby's gum protected. Great baptism or newborn gift.
---
Porto Sippers
Check It Out
Wow, talk about drinking with class! A spooky but stylish way to have a drink, these porto sippers are hand-blown wine glasses used by Europeans in the 17th Maybe drinking straws were not yet available then but nevertheless, I think this is a better way to sip your wine, liquors, or…blood! Each glass has two tiny feet so it can stand on any flat surface together with the straw. You and your friends will surely have a grand time sipping from these fine wine glasses.
---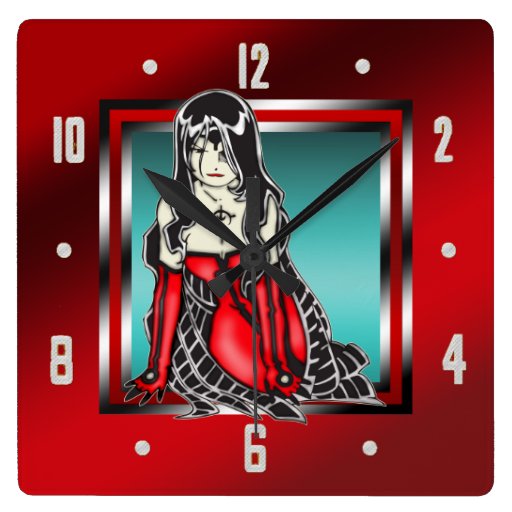 Vampire Girl Wall Clock
Check It Out
This wall clock rocks! This customized wall clock features an Anime Vampire Girl who looks like she is having a bad day and is hungry for blood. This will give your wall some degree of attitude. Though a vampire's body clock is totally different, this clock will be useful for them to know if it's time to hunt or if it's time to sleep. A perfect gift for family members or friends.